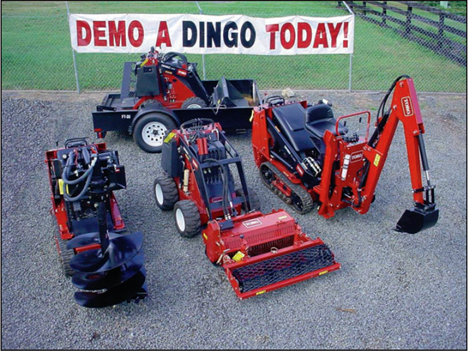 The Toro Dingo Loader

Meet the hardest working, most reliable, and versatile compact utility loader on the market.  The compact-equipment equivalent of a Swiss army knife, the Toro Dingo loader and its uses are unlimited.  Use it to...

-Maximize manpower and minimize hand labor

-Increase productivity and finish jobs faster

-Take on more work and expand your business

-Tackle virtually any task using 40+ attachments

-Work in tight spots where other machines cant go

-Go almost anywhere with a light footprint on existing turf

11715 Pump Station Way

Manassas, VA 20109

www.esequipmentllc@gmail.com

                                                                Welcome

E&S Equipment LLC of Virginia is your local Toro Site Works System Dealer.  Our company sells and services  the Toro Dingo, the Toro STX Stumpgrinder, the Toro TRX Trencher, the Toro Chipper and the Toro Log Splitter. Our team has over twelve years experience selling and servicing these machines, we are experienced and customer focused.

Every Dingo model gives you effortless maneuverability with virtually no learning curve for even the most inexperienced operator.  No wonder its the top-selling compact utility loader available today.

Currently, the Dingo family includes six models, offering both gasoline and diesel, wheeled or track units, ride-on or walk behind. Any model you choose offers amazing hydraulic power, all in a compact maneuverable package.

The Dingo attachments have set the industry standard. Tough, powerful attachments are built to tackle the most challenging conditions. With over forty attachments available, the Dingo has applications in such industries as landscaping, fencing, irrigation, decks, remodeling, utility construction, farming, snow removal, commercial flooring, commercial roofing  and home owner use.

Toro Stump Grinders

Well-balanced and easy to operate, these models provide some of the smoothest cutting performance of any walk-behind stump grinder on the market. Toro offers one tracked and two wheeled stumpgrinders. These compact power houses will fit into places other equipment cannot.  With three models to choose from, we have the stumpgrinder to fit your needs.

Toro TRX Trenchers

The Toro TRX walk-behind trenchers work faster and straighter than you'd ever expect from a walk-behind trencher. The track drive design provides a low center of gravity and large footprint offering stability and increased maneuverability - without causing damage to existing turf. The controls work virtually identical to the easy-to-use Toro Dingo TX models - so you can train new operators quickly. And the simple control system allows you to trench with one hand while adjusting boom depth with the other.  Three models available to suit your needs

The Toro Brush Chipper and The Toro Log Splitter

The Toro Brush Chipper is an easy-to-maintain, towable unit offering a gravity-feed system with 6" capacity, a high-output V-Twin engine and two single-edge cutter blades. For added productivity, the patent-pending chopper/mulch detangle system prevents jams, and a replaceable cutter block allows you to maintain close tolerance to the cutter blade.

The Toro Log Splitter is designed for long life, this ultra-tough machine features a Torflex suspension axle for smooth towing and adjustable swing-away tires for easy maneuvering.

We have some of the best finance programs available for your purchase.  Please call us for information on the programs and a credit application 703 919 5291

E&S Equipment, LLC

11715 Pump Station Way

Manassas, VA 20109

(703) 919-1379

www.esequipmentllc.com

Toro Aerators and The Toro Slit Seeder

Toro aerators and the Toro slit seeder are the best choice for turf professionals and rental stores.  Now the same durability you count on from other Toro products is available in a new turf renovation line.  New Toro aerators and slit seeders deliver high quality commercial construction, exceptional maneuverability and productivity enhancing features in one powerful package - the ideal addition to your turf care fleet.