[ Enter your text here. ]




E&S Equipment, LLC

11715 Pump Station Way

Manassas, VA 20109

(703) 919-1379

11715 Pump Station Way

Manassas, VA 20109

www.esequipmentllc@gmail.com

From pine to oak, the Toro STX 26 stump grinder turns stumps to chips quickly and efficiently.  Some dedicated stump grinders are over-complicated.  Not the Toro STX 26, its patented Toro Dingo TX-style control system has two simple levers -that are simple to learn, master and use,  Combine there easy-to-use controls with tracks and transport speeds exceeding 4 mph, and you get maximum productivity,  Wet, hilly terrain wont stop you from accessing tough jobs year-round with a Toro STX 26 stump grinder; the tracks travel easily over muddy areas.  The tracks also provide a low center of gravity adding exceptional side hill stability.  In addition, the hydraulically driven head means no chance of expensive belts breaking or slipping and tension adjustments- guaranteeing optimal performance time after time.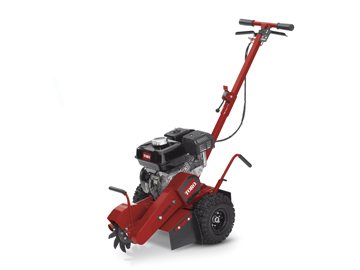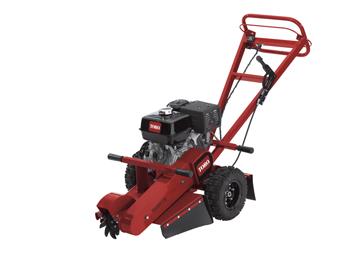 Key Features of the Toro STX 26 Stump Grinder:

-Fits easily through standard 36" gates

-Track design allows for zero turn capability

-Offset cutting head provides excellent visibility

-Full hydraulic operation- no belts to adjust or cogged pullys and clutches to replace

Toro STX 26 Stump Grinder Specifications:

-26 horsepower Kawasaki gasoline engine

-13.5 gpm hydraulic flow to cutting head

-Can cut 12.5 inches below grade

-Can cut 33 inches above grade

-47.5 inch arc head swing

-1150 pound weight

(Formerly known as the US Praxis Stump Grinders)

Toro's SGR line of handle bar stump grinders are great for grinding small stumps in areas with tight access.  Well-balanced, easy to operate and simple to maintain, these models provide some of the smoothest cutting performance of any handle bar stump grinder on the market.  The secret is our exclusive, Quadrublade tooth design, which cuts like a router without "pulling" the operator into the stump.

Key Features of the Toro SGR 6 and SGR 13 Stump Grinders:

-Quadrublade design allows easy replacement of teeth within minutes

-Rubber gaskets between components results in less operator vibration

-Well-balanced machine equates to less "muscling" machine while cutting

-Heavy-duty centrfugal clutch

-Lift handles for easy loading

             SGR-6                                                                        SGR-13

Toro SGR 6 and SGR 13 Stump Grinder Specifications:

-6 or 13 horsepower gasoline engines

-110 to 230 pound weight

-22 to 30 inches wide

Toro Pro-Sharp Blade Sharpening Program

Toro's Pro-Sharp Blade Sharpening Service is an exchange program that allows you to always have sharp blades for your Toro SGR Stump Grinder. Having sharp blades on hand helps you ensure customer satisfaction, control your expenses and maximize profitability.

How it works:

This service is similar to a propane tank exchange program.  Simply use the sharp blades from your tote, and when you install the second to last sharp set from your tote, its time to order the service.  Totes come with 24 sharpened blade sections for stump grinders.  Toro recommends changing blades after 25 hours on use.  Please call 703 919 1379 for more information on this service.

CALL TO BUY OR FOR A DEMO  703 919 1379

We Can Ship These Stump Grinders To You Anywhere in the United States or Canada

E&S Equipment, LLC

11715 Pump Station Way

Manassas, VA 20109

(703) 919-1379

www.esequipmentllc.com

Toro STX 26 Dedicated Stump Grinder
Toro SGR Stump Grinders

Financing Available like: 

No Money Down, No Interest for 48 Months and First Payment Due in September 2013.  Other plans available too!

No sales tax charged on any Toro Stumpgrinder shipped outside the state of Virginia

Toro STX 38 Dedicated Stump Grinder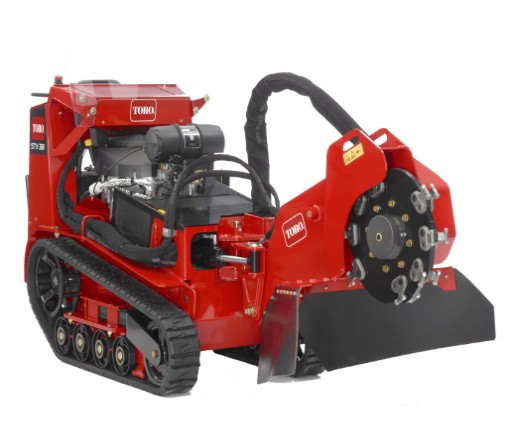 Introducing the largest dedicated Toro stump grinder on the market.  The Toro STX 38 boasts a 38 horsepower Kohler gasoline engine that gives incredible power to the cutting head.  This grinder is 34 inches wide so it can get into tight places that other grinders just can get to.  The track system has been made longer giving the machine superior climbing ability and hill side stability.  The Toro STX 38 also has the Inteli-Sweep feature that slows the sweep speed down based of heavy cutting loads to reduce bogging down of the engine.  An all hydraulic sweep control valve facilitates side to side feathering for superior stump grinding.  An all hydraulic cutting wheel saves you money on expensive belt replacement.  All this in an easy to use package that is designed for the stump grinding professional.

Key Features of the Toro STX 38 Stump Grinder:

-Fits easily through standard 36" gates

-High track design allows optimum climbing capability

-Powerful gas engine delivers big power to the cutting head

-Full hydraulic operation- no belts to adjust or cogged pullys and clutches to replace

Toro STX 38 Stump Grinder Specifications:

-38 horsepower Kohler gasoline engine

-20 gpm hydraulic flow to cutting head

-Can cut 18 inches below grade

-Can cut 35 inches above grade

-52 inch arc head swing

-1750 pound weight

-4.5 mile per hour transport speed